BOULDER QA'S 2022 RECOMMENDED BROWSER / DEVICE LIST
Each year we send our partners recommendations for Browsers and Devices for the coming year based on Browser and Device statistics. If our partners do not have access to website or application usage analytics or defined browser/device specifications, then they use this data when sizing new projects for development and QA. With 2022 nearly here we wanted to publish our recommendations to not just our partners, but to our readers as well.
With technology constantly changing with new operating systems, faster hardware and better screen resolutions its a challenge for us as technologists and our business partners to keep up with the latest trends and new hardware on the scene. We regularly check statistics to make sure that we are reviewing sites and applications using the best information available.
We also wanted to share what devices that we have physically in our QA Lab as well as how we address devices that we may not have physical devices for.
What browsers and devices are we recommending for 2022 and how do we come up with the recommendations for the coming year? This post is broken down into 3 sections:
2022 Recommended Browser / Device List
The following outlines BQA's recommended Browser / Device List for 2022 based on the statistics we have obtained from Global Stats statcounter (https://gs.statcounter.com).
Browsers
Chrome: latest version available
Safari: latest version available
Firefox: latest version available
Edge on Windows 11: latest version available
Android Devices
Samsung S2x (available in 2022)
Samsung S10 / OS 11
Google Pixel 6 / OS 11
Google Pixel / OS 10
Google Pixel 3 / OS 9 (As Required)
NOTE: Android OS 12 has been released and is currently available on some Pixel and Samsung devices. We will keep an eye on the OS 12 market share, once it exceeds 5% we will look at starting to include it into our test suite of devices.
iOS Devices
iPhone 12 / iOS 15
iPhone X / IOS 13
iPhone 8 / iOS 14
iPhone Mini / iOS 15
iPad Pro 10.5 / iOS 15
Usage Statistics
Boulder QA has reviewed a number of sites that provide market share statistics across platforms and operating systems. We really like the flexibility of Global Stats statcounter (https://gs.statcounter.com). Global Stats calculate their statistics on the basis of more than 10 billion page views per month by people from all over the world onto their 2 million+ member sites. Global Stats allows the user to review the market share on a worldwide basis or narrow it down to a specific market region, for example the United States.
With a majority of the Boulder QA partners and users located in the United States we are able to view this specific region and provide a recommendation to our clients on which browsers and devices will provide them with the best coverage for the website or application. When we have a client outside of the United States, we can quickly adjust our inputs to their region and make recommendations with statistics to support their specific audience.
The following are the statistics BQA used to support our recommendations for 2022.
Desktop Browser Market Share
United States for the Last 12 months (Nov 2020 – Nov 2021)
| | | | | |
| --- | --- | --- | --- | --- |
| Chrome | Safari | Edge | Firefox | IE |
| 59.86% | 17.83% | 12.61% | 6.23% | 1.4% |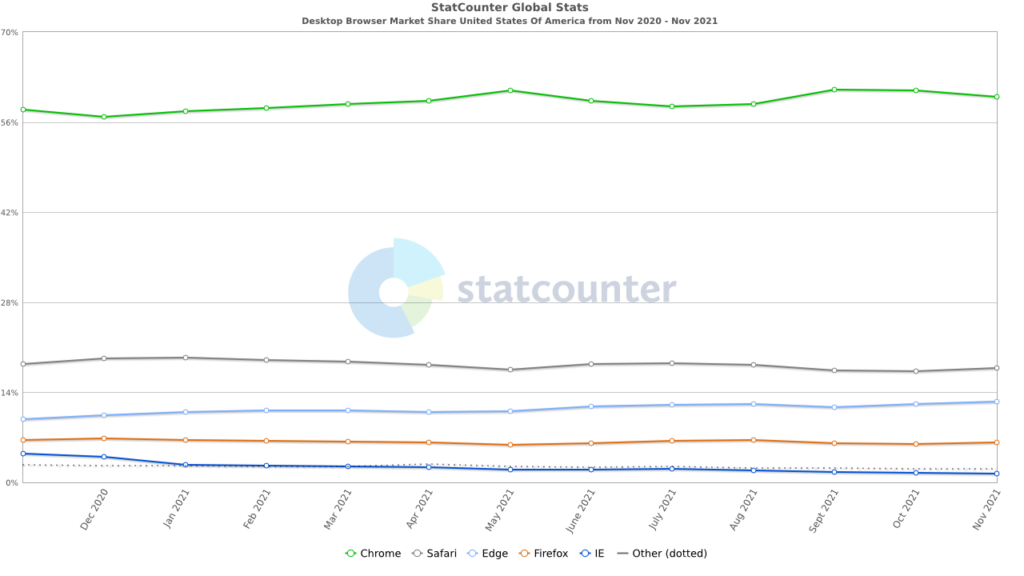 Source: StatCounter Global Stats – Browser Market Share
iOS Version Market Share
United States for the Last 6 months (Dec 2020 – May 2021)
| | | | | | |
| --- | --- | --- | --- | --- | --- |
| iOS 14.8 | iOS 15.1 | iOS 15.0 | iOS 14.7 | iOS 14.6 | iOS 14.4 |
| 38.35% | 18.22% | 15.95% | 9.51% | 4.06% | 3.16% |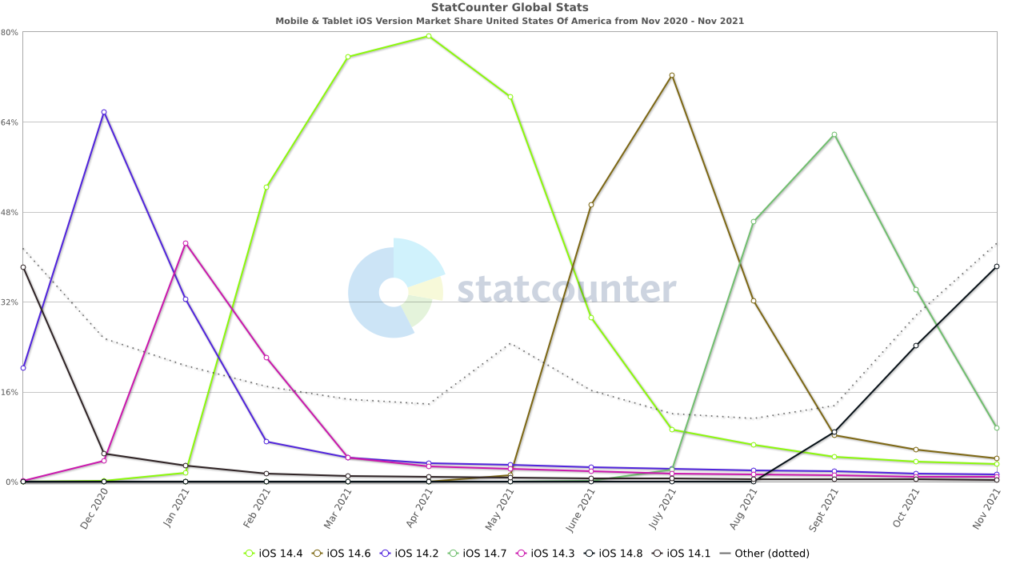 Source: StatCounter Global Stats – iOS Version Market Share
Android Version Market Share
United States for the Last 6 months (Dec 2020 – May 2021)
| | | | | | |
| --- | --- | --- | --- | --- | --- |
| 11.0 | 10.0 | 9.0 Pie | 12 | 8.1 Oreo | 8.0 Oreo |
| 43.61% | 22.79% | 15.62% | 3.77% | 3.31% | 3.18% |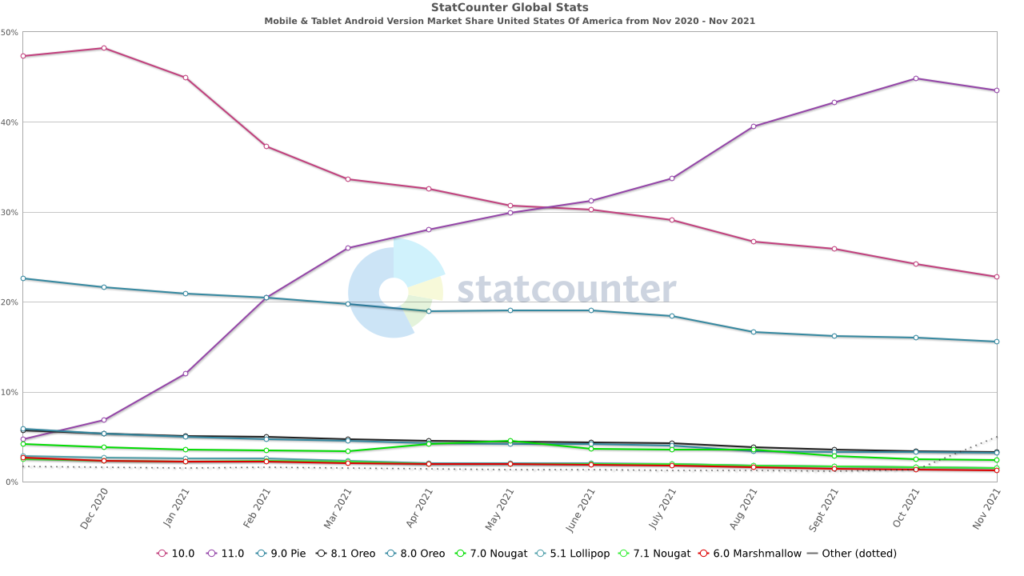 Source: StatCounter Global Stats – Android Version Market Share
Boulder QA Test Lab
The following is a list of physical devices that BQA currently has in their lab. We also use BrowserStack (https://www.browserstack.com) to supplement the physical devices that we have in inventory. BrowserStack provides BQA the ability to review websites on devices that we may not currently have in our Test Lab or if a client has a very specific device that they would like reviewed.
While we believe the best review of any website or application is on a physical device, we have found that BrowserStack provides us the ability to expand our lab with confidence for specific client requests that may occur outside of physical devices that we currently have outside of our lab.
We have also used BrowserStack to help identify issues which may always be repeatable within our client's development environment. There have been cases where we have reported an issue to our development partners that they cannot reproduce in house. Using BrowserStack to verify the issue and allowing us to share those results with our development partners increases the ability to provide a quality product to the end users.
Desktops
MacBook Pro
Windows 11 (Physical and Virtual Machines)
iOS Devices
iPhone 12 Pro / iOS 14
iPhone 12 / iOS 15
iPhone 12 Mini / iOS 15
iPhone Xs / iOS 14
iPhone X / iOS 14
iPhone X / iOS 13
iPhone 8 / iOS 14
iPhone 7P / iOS 14
iPhone 7 / iOS 13
iPad (2018) / iOS 14
iPad Pro 10.5 / iOS 15
iPad Mini 4 / iOS 15
Android Devices
Samsung S2x (available in 2022)
Samsung S10 / OS 11
Google Pixel 6 / OS 11
Google Pixel / OS 10
Google Pixel 3 / OS 9 (As Required)